OUR FEATURED DESIGNER
Rose Ott, of Rose Ott Design
About Rose Ott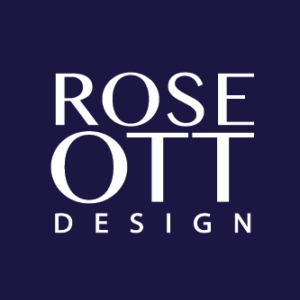 Rose Ott's background in fine arts and fashion, coupled with her interior design education has earned her the reputation as one of the industry's premier professionals.
From planning to purchasing, Rose presents her clients with creative and sensitive solutions that are versatile in both style and sources.
Rose Ott is an Allied Member of American Society of Interior Designers (ASID) and International Furnishings and Design Association (IFDA), serving on the Board of IFDA from 2010 – 2016. She has been featured on NBC's Open House, George To The Rescue, and in numerous publications. Rose is an Adjunct Professor at Nassau Community College.
A House in Need of a Rescue Exceeds Expectations—Nautical Vibes Abound
Rose Ott of Rose Ott Design, and Bonnie of Symmetry Closets worked together in the past, but this was their first time collaborating on a special George To The Rescue (NBC) project. This was Rose Ott's fourth time working with George To The Rescue, and for this specific project, Rose invited Bonnie to work on a laundry room in desperate need of some custom storage solutions and organization.
The lack of storage made the laundry room cramped with hanging clothes and other miscellaneous household items. Bonnie and her custom closet team got to work to create a plan to blend storage with style.
A wall hanging iron board was installed and a storage unit with baskets for extra personalized home organization. Brushed brass was chosen for the hardware to match the nautical design theme. White shaker style cabinets and crown moldings finished the look.
Active and Community Driven Calls For a Well-Organized Home Base
The Byrne family agreed they wanted a nautical theme in the new interior design. The ocean colors and textures would match the Byrne family's love for the tight-knit beach community of Island Park, NY.
John "J.J." Byrne, the oldest of two sons, was diagnosed with cystic fibrosis when he was seven years old, but that didn't stop him from taking an active part in his community. J.J. Byrne is civic-minded, he is assistant to the mayor of Island Park, an active member of the church, and he also works hard to fundraise and raise awareness for cystic fibrosis.
Tara Byrne, J.J.'s mother, is also active in the Island Park community, where she served as past president of the PTA, and currently acts as a member on the Island Park school board.
"A nourishing home and work environment has been undeniably proven to contribute to one's happiness, well-being and productivity"
– Rose Ott
Rose Ott and her team, which includes her husband and builder, Frank Ott, wanted to create a specialized area for all of J.J.'s extracurricular activities. They wanted a clean and organized space, but also a place where J.J. can relax and enjoy his environment.
The team took out the carpeting in the front room that would become J.J.'s home office, to eliminate any amount of excess dust or toxins that might irritate J.J.'s medical condition.
A coffee table and a loveseat were placed on the opposite side of J.J.'s workstation in the front room. The design team got rid of those dated furniture items, and added a hanging loveseat to create a fun and relaxed vibe.
J.J. mentioned that some of the kitchen appliances were in disrepair, and the space just wasn't up to par for any type of entertaining – be it holding meetings involving fundraising, PTA or school board meetings. In the kitchen they ripped out and replaced the ceiling due to mold, again, to limit toxins possibly getting into J.J.'s breathing environment.
With that in mind Rose Ott's team got to work in the kitchen. Ripping out a wall in the kitchen opened the space for more room to entertain, and for the family to enjoy more time in one of the most important parts of the house.
We wish the Byrne Family many years of joy in their newly revitalized home. And we thank the George to the Rescue team for the opportunity to be a part of this project!