About Us:
At Symmetry Closets, we know that big dreams live in small spaces.  It all starts with great design, thoughtful storage solutions, and a seamless customer experience.
Symmetry Closets is right here in your community: a New York woman owned and operated small business, locally owned and family run.  With two locations, we're always nearby, and ready to provide innovative quality custom storage solutions for the entire home.
How it works:
We make custom easy!   Our Design Team works with you to create space for all your things.  We review the 3D Computerized Design together, confirm that your favorite items will be highlighted, and that everything else will be tucked neatly away.  Once it's finalized, we make your new storage solution in our own fabrication shop right here in Long Island.  Our team of expert installers bring your new closets into reality—and you get to relax and enjoy your new storage!
Design Team:
Our staff of closet design pros are space planning experts.  We enjoy transforming spaces—and understand that a truly custom approach is the best way to maximize your storage.  From choices of style and finish, beautiful hardware, lighting and luxurious closet accessories, we bring the details of your home into your personal space.
From the first meeting through the installation, we're committed to creating storage that makes your home more enjoyable.
We give back:
Throughout the past 10-years, we've been so honored to be able to contribute to those who really need a little neighborly support.  The NBC TV show, George to the Rescue is a powerful force for good—we've donated to five projects so far.  Through this show, we've helped a young Paralympian athlete, several families, a school for kids who need special nurturing, and a community cancer resource center.
We've assisted with Habitat for Humanity homes, the Ronald McDonald House, and the Fairway Foundation Veteran's Home project with IDS and NARI.  In collaboration with IDS LI and NARI NYC/LI, we've volunteered to help raise funds for many great causes and dedicated non-profits.
"Have you had a kindness shown? Pass it on." Henry Burton
Go Green:
The particle board material we use to create your closet system is from 100% recovered or recycled wood-fibers.  It is made in North America.
It is certified to ECC (Eco-Certified Composite Grademark Program Certification) standards by the CPA (Composite Panel Association) and produced in a licensed facility.  This includes:
-Carbon Footprint: The panel's carbon score off-sets its cradle-to-gate carbon footprint
-Local & Renewable Resource: At least 85% of total annual wood fiber is sourced within 250 miles of the manufacturing plant
-Wood Sourcing: Forest Stewardship Council chain of custody certification
The material requires formaldehyde emissions equal to or lower than CARB (California Air Resource Board) phase 1 levels.
Symmetry Closets is committed to using North American-sourced melamine because it's the environmentally friendly choice.  It's the healthier choice for your family and ours, and for air quality we all can enjoy.
Bonnie Reich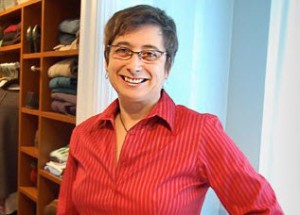 I started my career in the custom closet industry in 2001 and what started as a temporary shift in my design career became a fascination. Previously, I practiced architecture for 10 years, designing and detailing mostly commercial spaces. I worked on large projects, from bookstores to boutiques. I never really gave much thought to the storage spaces in a project. In architecture, the closets are residual; the leftovers spaces that remain after the primary rooms and site lines are laid out. In custom closet design, you have to find a way to make these leftovers the main course.
Long before I went to architecture school at Virginia Tech, I was in juvenile furniture sales while I was a student at Brooklyn College. I loved sales, working with people; getting to know them and helping them make great selections. Custom closet design was a great fit for me because it brought my two strong skills together, sales and design.
I am aware that my experience in architectural design informs the work we do at Symmetry Closets. I like to find the simple elegant solution to any space problem. I also know my experience in construction helps our customers. I have a knack for determining what is and isn't possible within your budget limits and guiding our customers through the entire process.
I worked for several established custom closet companies. While I enjoyed working through the designs with customers the end result always fell short, mainly because I could not control the entire process. Once the design was done and paperwork signed I had to hand it off to someone else. Sometimes the customer was happy but other times they were disappointed in the way their project was implemented. I decided that if I was going to stay in the custom closet business I had to start a new kind of company and the result of that decision is Symmetry Closets. I wanted to start a company that put professional space planning first, paired with excellent customer service.
Symmetry Closets began as a recommendation and referral based business. We are growing because we maintain strong relationships with our customers. We love working with interior designers, contractors and builders because we value relationships that put people first. I'm very proud of all the growth and changes we are experiencing and our continued commitment to providing the highest quality of service to our customers.