How to work with your Closet/Storage Designer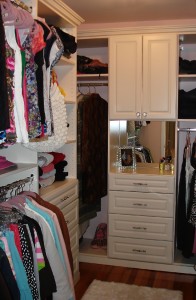 Storage designers can organize your life and add luxury to your spaces for a very reasonable investment.  Many people don't realize the flexibility of styles available, and that your storage designer can tie the design closely to your home décor.  Your closet specialist can work with your interior designer and your contractor by scheduling installations in a way that makes sense for your project.
Tip #1:  Schedule time for an in-home consultation with your closet designer.  A thorough consultation ranges from 1-2 hours.   He will measure your space, assess your storage needs, and if time allows, start planning the layout and design while you're still together.  Meeting in your home allows your storage design specialist to work with you to fine-tune your design, choose color pairings, and door/drawer selections that complement the mood and style you enjoy.
Tip #2:  Make sure to remove enough items from the closet, pantry or other space so that your designer can properly measure.  Being able to see the corners and ceiling, to observe hidden utility panels or molding, can make all the difference in the end result: a tightly fitting, custom sized storage system.  Provide an inventory of your possessions and if possible, show her the items for a quick measurement.  Similarly, let her know if you store your shoes in boxes so that she can build in customized shelves to accommodate them perfectly.
Tip #3:  If you're already working with an interior designer or contractor to complete your remodel, introduce your closet designer to the other professionals involved in the project.  This will simplify any necessary coordination of scheduling and deliveries, ensuring that everything goes smoothly.  A simple change of floor molding size, ceiling height or door opening can be communicated this way, before the storage system is manufactured.  Of course, if you're looking for a great painter or interior designer—ask your closet designer—there's nothing like a recommendation!
Tip #4:  Your schedule for painting, carpet or flooring installation/finishing, and other tasks is crucial information for your closet designer.  Your new custom storage system should be installed at the end of your remodel or renovation project.
Tip #5:  For those who live in a condo/co-op or other multi-unit building, it's helpful for you to facilitate the conversations with building management.  You probably haven't thought about it in a while unless you've done other recent construction, but as a rule, buildings have strict requirements regarding insurance, scheduling time to use the freight elevator, and service entrance.   Your assistance with those conversations can save a lot of frustration.