OUR FEATURED DESIGNER
Wendy Lepkoff, Owner of Wendy Interiors
How Symmetry Closets and Wendy Interiors Began Collaborating
Wendy and Bonnie have worked together on projects for several years, and have since cultivated a wonderful rapport through working together at the Interior Design Society, Long Island Chapter.
"Wendy's concern with her clients is to not only make her client's home more beautiful but much more functional. She fully appreciates how important solving storage issues are. And she works through those details, of what they want to keep or what they want to replace, with her clients. By making storage a priority, she is able to deliver a clean, highly functional interior space, and her clients love and appreciate it." – Bonnie Reich, president of Symmetry Closets
About Wendy Lepkoff
Long Island, New York based Wendy Lepkoff specializes in residential interior design projects. Wendy Interiors, Inc. is a full service design studio offering design consultation, space planning, custom furniture design and space renovations.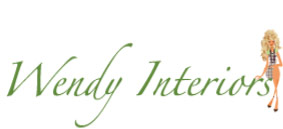 Wendy creates custom interiors with a collected feel that reflect the personality/vision of her clients. She seeks out furniture and accessories and assembles collections of unique pieces for her projects. Wendy is an excellent guide throughout the design process. Knowledgeable and intuitive, she has an ability to articulate visually and verbally exactly what her clients seek. From the grand view, down to the most intricate detail, Wendy's finesse enlivens any room.
Design Backstory: East Hampton Vibes
This home began as a bachelor pad. When the homeowner got married, he promised his wife that they would redo the townhouse. The wife is a very organized person and preferred everything to have its place.
The clients wanted to make the most out of the limited space they had. This was a challenge because the 2-bedroom townhome did not have a garage or basement for extra storage. Wendy needed to find a way to utilize every possible space. Wendy and Bonnie determined how to overcome this obstacle. The result: the neutral, relaxed design remained consistent throughout the kitchen and living room area, into the home office and other built in storage areas. All-white, shaker style, custom built ins in the home office created a clean-cut and streamlined appearance.
Although the home office has more of a contemporary vibe than the rest of the interior design, there are still seaside details distributed lightly throughout the space.
Classic White Bedroom Closet —Storage with Style
The theme throughout the home was an updated, fresh and organized look. From the light fixtures to the lighter pieces of wood placed in different areas of the home, and the silver and chrome hardware – the home has a complete, consistent vision—and Wendy makes the whole project appear effortless.
To ensure the space was utilized to its greatest organizational potential, Bonnie measured everything the clients own, including vacuum cleaners, cat carriers, coolers, beach chairs, folding chairs, blankets, wrapping paper, etc. The client was able to fit everything into their new closet with room to spare.
A Charming Kitchen and Living Room With Maximum Cabinet Space
Wendy needed to find creative storage solutions for the clients. She was able to do that by moving their washer/dryer upstairs, adding pantry space. She continued the kitchen cabinetry into the dining room, to create a generous amount of counter space and cabinet space.
"I came, I went, I conquered,
that felt so good."
– Wendy Interiors
Wendy explains a little bit about why she enjoys working with Bonnie on these special projects, "Having Symmetry Closets do the clients wall of bedroom closets and walk in closet saved them the space they
needed for a closet in their office as there was no clothing overflow from the bedroom. The office closet literally became their garage/basement.