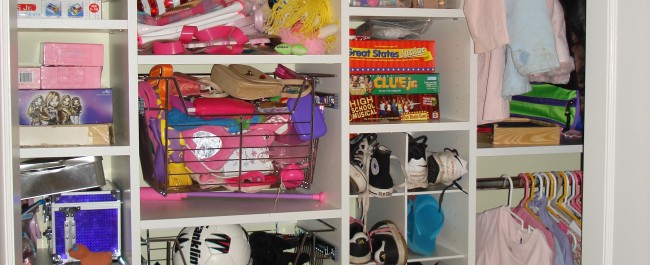 Tips For Organizing Your Closets
Our closets start out organized—what happens? We forget to sort through our stuff as we buy more, for one thing. And as we use them, we put things back in a hurry, and our closets get messy.
There are techniques and strategies to keeping a closet organized over time. These are a few of our tried and true best recommendations to tame your linen or clothing closets.
Linen Closet Organization:
Rule of Three: Sheets per bed, towels/hand towels/wash cloths per person. This provides one in use, one in the wash, and one in the closet.
Guest items: One or two is sufficient (sheets, towels, etc).
Group items either by type (queen sheets) or by room (bath #1).
Bulky items like quilts or pillows can be stored in compression sacks (vacuum activated) to stay fresh and condensed.
Seasonal items like holiday tablecloths and beach towels should be stored on high or low shelves. Slide out shelves work well for table mats and cloths, baskets and bins can neatly hold napkins and rings.
Resist the temptation to buy linens on sale without giving away an old set. It will keep all the linens looking uniform and will keep the allocated space from creeping into other areas.
Linens get musty when there's not enough air circulation. Be sure to leave room around and above the stacked linens. If needed, a simple open baking soda container will remove any odors and keep the closet fresh.
Clothing Closet Organization:
Group clothing by length, type or purpose: Business clothing can be in a single section, with pants and shorter skirts hung together. Men's or women's suits can be grouped with color coordinated shirts, or outfits can be hung together. Install a tie rack or belt rack nearby, and your outfit is almost complete. The goal is to be able to glance into the closet, pick out your outfit, and go about your busy day.
Put away Dry Cleaning: When the drying cleaning comes home, it often gets hung on a valet rod or hook., and gets used as needed. This creates a bulky obstruction in the closet, and empty bags and hangers. A better technique is to take five minutes right when the clothes are brought into the closet. Quickly remove the bags and hang everything on proper hangers, in the area you'll look for them. Recycle or dispose of the bags, and return the wire hangers to the dry cleaner.
Arrange seasonally: Even if you don't have off-season storage, there are ways to remove those items from view. Create a zone for the clothes, in a less accessible part of the closet. Use a high shelf for boots or sandals, bins or baskets for smaller items. You'll get in the habit of not looking at the off-season area, and will have a selection of seasonally appropriate items in your main area.
Organize folded clothing by type and color: How often are you looking for a blue tee shirt, or a workout top, and can't find the one you want? Pick part of a shelf for shorts or sleeveless tees, for exercise gear or lounge wear. You'll be able to find what you need every time, without wasted time and frustration.
Shoe storage: In addition to the designated area for off-season shoes, it is useful to set aside less used shoes. If space allows, store these in labeled plastic bins or shoe boxes high or low in the closet. If not, try to store them in another closet or under the bed. This method should free up space for frequently worn items. Grouping business shoes near the business clothing is optimal, like sneakers with the gym clothes and shorts.
We want to make room to buy new things, and we want to keep our closets organized and neat. By using the tactics above, we truly can have it all! Just remember when it's time to make the seasonal clothing changeover, look through the clothes. See whether anything is stained or getting tattered and get discard it. So much stuff can be given away, to have a second life with those who need it more.