An Organized Home Office for Any Room Size
By Bill Kahn, Custom Closet Professional and former Vice President of Symmetry Closets.
Let's face it… in the days of smart phones, high-speed internet and Wi-Fi, the work day doesn't stop when we get home.
We all have projects or tasks that we need to do in the "off hours." Many of us have started our own home-based businesses, or perhaps we telecommute a few days a week. More so, when the day is done, almost all of us need a dedicated workspace in our homes where we can "drop off" all the dead weight. Now at this point in our thought-process is where we start to think we just don't have the space.
This is how our dining room and kitchen tables become our home office space. Eventually, it may graduate to a small writing desk or card table in an unused corner. Our filing system consists of piles of paperwork and folders strewn about the table and any other nearby surface. We end up eating in front of the TV since there's no room at the table. Our paperwork and bills are out in front of us all the time, the work day never truly ends and we're always stressed-out. We think we don't have the space to put it all away without misplacing it.
Well, we're wrong.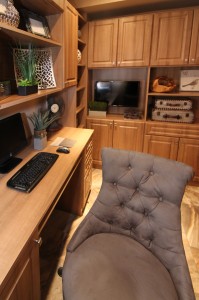 A home office doesn't need to be a separate room with a door that closes us off from the rest of the world. A good work space can be a small surface that can fit the laptop, has some filing space and room for office supplies. Maybe there's even room for a printer, but the important thing is to have someplace to put it all when we're done with our day.
An organized office needs:
A file cabinet. Most of us only need one drawer.

Box up anything over a year old and put in a closet or other storage area.
Or scan your documents for electronic filing (back up often to a separate device).
Remember to go through and shred any personal financial documents over seven years old. (Business owners should keep those for ten years.)

A drawer for pens, paper clips, power cords and other small office supplies.
Maybe a closed cabinet with a slide-out shelf for the printer.
Space for extra paper, pads, binders and books.
A custom designed work-station eases stress and creates an escape in the home that we never realized possible. We all need to relax, and putting the work day away is one of the best ways to start.