OUR FEATURED DESIGNER
Adam Cassino, Adam Cassino Design
How Symmetry Closets and Adam Cassino Design Began Collaborating:
"A colleague of mine recommended Symmetry Closets to Adam when he realized he would need an expert closet designer for this project. When we spoke about the designs for the client's 'his and hers' walk-in closets Adam knew exactly what he wanted and he gave us very detailed directions when it came time to install.
That's the nice thing about him, he knows exactly what he wants and expresses his design expectations very clearly, which makes the process that much easier for us.
Bonnie wasn't a part of the entire design and renovation process but she recalls the amount of precision Adam and his team exhibited, "Adam makes decisions quickly and efficiently and that make a large complex project move faster." This applied to Bonnie's part in designing the client's two walk-in closets, "Adam gave us a very realistic time frame to produce the order and install it to the exact specifications he requested. We are in the design phase of another project with Adam and we're enjoying the process."
About Adam Cassino
A New York City native who is passionate about all things design, Adam is trained in several interconnected fields that lend him to be a well -rounded designer and problem solver. Priding himself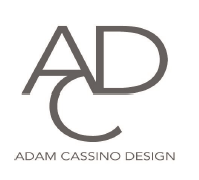 on customer service, Adam is known for developing long -term, intimate relationships with his clients, making himself always available and approachable, often far beyond the completion of a project.
Adam's range of knowledge in engineering, design, architecture, and real estate is beneficial when working directly with architects, contractors, and other design individuals. His diversified background, coupled with innate talent, a well-received demeanor, and strong work ethic, allow Adam to achieve great success in his projects, and a high level of gratitude and satiation in his client base.
Design Backstory: Luxury Interior Design for the Entire Home
"Believe it or not, the interior of this 6,500 square feet family home started out as gothic and heavy. Our client brought us in before purchasing and asked if we could transform it into a light and airy transitional feel that they loved; we clearly could.
Without delay, remodeling began, and in less than a year this now updated transitional home is a delight to be in. We changed the color palette of the entire home, changed stone surfaces, flooring, bathrooms, kitchen finishes, all lighting, and added elegant woodwork detail throughout. Now fully furnished in exquisite, comfortable, and usable pieces, this home has far surpassed our client's expectations and is a beloved space for the family."
A Homeowner's Dream Come True: Interior Design Ideas Come To Life
Our time working with Adam has been nothing short of amazing. He brings innovative thinking, an innate technical mind, & a sharp eye for all things beautiful. These qualities combined have created the most incredible spaces in our home. His visions of a space are always creative while closely paying attention to the functionality of the room. He has become not only our designer but a dear friend in the process. He has a keen sense in getting to know his client which allows his work to reflect our own personal style throughout our home.
We worked on many projects that involved designing from scratch custom pieces in our work spaces, closets, and living areas. Adam was always on the ball with every detail of the technical aspect of the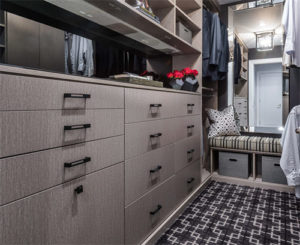 work. He inherently understood how each space & the furnishings should fit & flow together. This goes for all parts of the design process from our unbelievable entry chandeliers to the placement of our towels and trays in our bathrooms.
His eye for details, color, and style comes naturally to him. The process of creating our new home could have been overwhelming to us. It ended up being the most exciting and special time because we had Adam to guide us.
His and Her Master Bedroom
Closet Designs: A Match Made In Heaven
Clean lines and an overall lighter feel throughout the home was achieved in the design project over the course of about a year. At that point the closets were finally in sight for the husband and wife. The clients wanted their closets to appear classy and leaning more on the extravagant side to match the rest of their newly designed home. The wife wanted plenty of room for her shoes and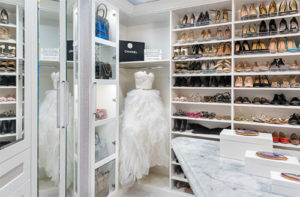 handbags, and for them to display like a upscale dressing room. She also wanted even more drawer space, so they decided to put in a peninsula attached to the wall with a stunning white marble top.

Follow Adam on Instagram: https://www.instagram.com/adamcassinodesign/
Visit her website: http://adamcassinodesign.com/