Organizing and Making Room for Spring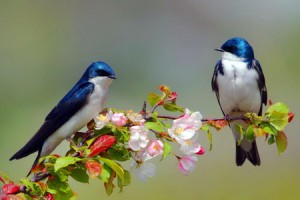 We're hearing the birds chirping in the morning, the snow banks are finally starting to recede, and spring is definitely in view. Soon, we'll be focused on the outdoors–planting beautiful flowers, getting the patio furniture together, clearing out the garden.
But consider this—right now, these few weeks before spring starts are your chance to deal with the inside of the house. This is the time to tackle those organizational projects you've been meaning to get to all winter. This year, why not take the opportunity to make the next few seasons flow more smoothly?
These are some of the seasonal projects our customers have asked us about lately—are some of these on your to do list?
Off Season Clothing Storage: Soon the heavy winter clothing will be swapped out for the lighter spring and summer wear. It's easiest to store off season clothes in a basement/attic/spare room closet just as they were in the winter closet. That way you can simply slip the next season's clothing into your closet.
Coat Closet Systems: The coat closets get crowded quickly. This is the perfect time to assess what's worth keeping for next winter. You may have found a great new jacket on sale—give away the old one. Of course, anything that's frayed, pilled, out-grown or obviously dated can go in the give-away box as well. The reward–when the winter coats are washed and dry cleaned this year, they'll fit back in the closet with room to spare.
Off Season Bedding and Linens: The thick blankets and flannel sheets, winter pillows and heavy curtains need to make room for the airy and bright colors of spring. Having a dedicated place for each bedroom or function helps you to find what you need for the next season.
Garage Storage: We really needed the skis and snowshoes this winter. But we're eager to put away our sleds, ski poles, and other gear until next year. You may have the perfect place in your garage or basement to store the stuff you have, and maybe for the stuff you want to get next year. If not, a storage system can help organize everything and keep it clean/dry until next winter.
Pantry Storage Solution: Every season seems to call for an organized pantry. Right now, we're just about ready to stow away the crock pot and big soup pot. And soon we'll need serving pieces for Easter/Passover and outside non-breakables for summer barbecues. It's hard to find places for it all. An organized pantry can help, and even if your space doesn't currently have a pantry, it's often possible to adapt a nearby space to help simplify your seasonal transitions.
After this winter, none of us can wait for the warmer weather! We hope that these ideas inspire you and make the next few months more enjoyable and fun. Happy Spring!