How to Play with Color and Texture
Every year, the design community selects a color of the year for décor, and for fashion.  This year, it's Marsala!  The rich ruby color is everywhere—from fashion runways to accessories.  If you work with an interior designer, they'll have the colors and styles factored into their unique design for your space.  When we partner with designers, they help select the paint colors that will illuminate your rooms, and also the coordinating wallpaper, fabric textures and closet color to enhance your experience of your spaces.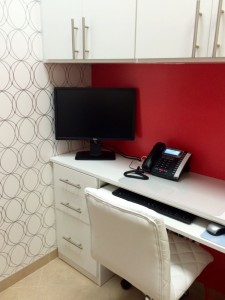 When it comes to storage design, we can customize that to almost any use.   For visual impact, the key factors are shown well in the handsome Long Island office shown to the right.
There's a dramatic contrast between the white cabinets and the limited use of the stunning wall color.  The strong linear impact of the door/drawer pulls and the curvy wallpaper pattern make for a highly functional and beautiful working space.
The complementary colors are chosen to pair well with Marsala.  As you can see in the selection below, these can be utilized to modulate the dominant color, or can be simply used on their own.
We've designed closets to complement these shades in many contexts.  Pantries are an area truly designed for "tasty" colors.  Whether it's an open or closed door space, it's an opportunity for a fun shot of color—in a way that doesn't require the commitment of a whole room.
Another color-friendly space for those new to color is the children's closets.  These are fantastic spaces for a touch of whimsy—and given a little time, the kids will grow into a new space anyway.  You can design these to your colorful heart's content!