OUR FEATURED DESIGNER
Anne Marie Virgilio, Interiors by Anne Marie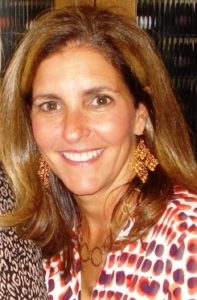 How Symmetry Closets and Anne Marie Virgilio Began a Design Collaboration:
Anne Marie met us at Symmetry Closets through The Interior Design Society, Long Island Chapter, about two years ago – she was looking for custom closet design services to pair with her interior design projects. Since we're both part of the same design-focused trade group, we work well together–it was a perfect fit. We originally met at a local IDS meeting – she had a project with Symmetry Closets in mind. Anne Marie met with one of our closet designers at her project site, where we worked out the design concept with her and developed plans and 3D renderings to discuss with the client. We've collaborated on several projects since.
About Anne Marie
Anne Marie Virgilio, of Interiors by Anne Marie, has established a reputation among her clients for her timeless and sophisticated interior design for the home. Anne Marie has a talent of combining classic style with modern elegance. Her vast experience in the study of color is evident throughout her design schemes and wide range of interior design services.
With over 2 decades of experience, Anne Marie takes the time to listen to what her clients' needs are and is able to implement their vision into a dream come true. She oversees every aspect of the project and takes her client from inspiration to installation. Interiors by Anne Marie is a full-service design firm. Anne Marie is an associate member of the Interior Design Society.
INTERIORS BY ANNE MARIE
OUR FIRST FEATURED PROJECT-Playful and Practical
Photography by Nicole Larson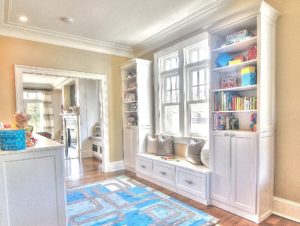 The Kids Room-Converts to Home Entertainment Concept
This family has young children who required a centralized play space. We repurposed this area, between the living room & kitchen, to become a beautiful kids room, with toy storage space—with the ability to quickly put away toys behind doors and in drawers, and still stay organized. There's a window seat, shelving for toys and books, and more. All with elegant shaker style cabinets and crown molding.
Children Grow Up So Fast
Of course, one day soon the children will no longer need this play space next to the family room & kitchen. What then? Anne Marie commissioned the proportions of the shorter wall unit to be a suitable future buffet and dry bar area. A simple change-out of the playful knobs, some decorative items on the counter surface, and this kid's play area becomes a sophisticated home entertainment area.
Why Custom Built-Ins?
As you can see in this image, built-in cabinets are the most efficient way to fit storage into narrow spaces—because you don't even need to leave space for the base trim! Consider built-in wall storage for a hallway or a narrow dining room. We added the decorative side panels here to harmonize with the formal dining room to the right.
OUR SECOND FEATURED PROJECT-New World Home Office, Old World Elegance
Photography by Nicole Larson
                                        Efficient, Compact Office Space Planning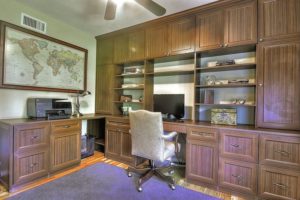 The client needed a handsome and functional home office work environment, easy to clean up and comfortable enough to work in all day. Anne Marie combined all her client's needs into this efficient space using some tricks:
The room isn't that big but the ceiling is tall. Running the custom office cabinets to the ceiling with crown molding makes this small home office seem huge.
Deep home office desk with shallower upper storage cabinets keep the tall unit feeling light despite the medium wood tone.
Home Office Organization Tip:
It's so important to keep the home office from taking over the home—keep clutter at bay and invite serenity into the space.
Cabinet doors and drawers are necessary to keep a home office neat, and open shelves keep it visually airy with pretty mementos and collectables feeling right at home.
INTERIORS BY ANNE MARIE

Website: www.amvdesigns.com
Cell: 516-241-8094
HOUZZ: https://www.houzz.com/pro/amvdesigns/interiors-by-anne-marie—anne-marie-virgilio