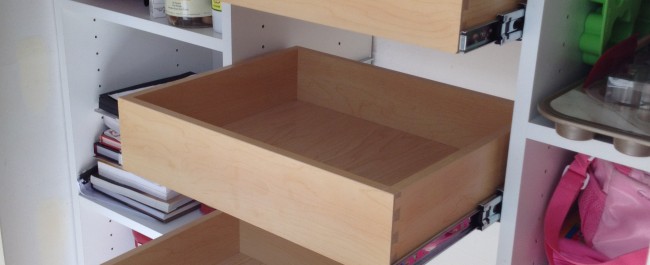 Spring Cleaning For Storage Spaces
After this long and cold winter, we've become accustomed to the collection of gloves, scarves, hats and the pile of shoes by the door. However, once the good weather finally arrives, it's time for spring sports and all the accompanying muddy gear. Worst of all, this mess is the first impression people have when they arrive at your lovely home.
One of the most overlooked essential areas is the coat closet. These closets tend to have a hanging rod and maybe a single shelf. By simply adding some shelves you can create space for boots, shoes, and other gear. If space permits, you can store hats, caps, winter scarves and gloves by adding drawers or baskets that slide out. Closet baskets and drawers are great to have near the bottom of the closet, around a small child's height, making it easier for the little ones to put away their own stuff and to grab their toys or mittens before running out the door. These are also an excellent place to store the dog toys, leashes, and other gear. Our dog takes his own leash out of the bin when it's time to go walking!
While some homes don't have a convenient coat closet or have already fully utilized that storage space, many of us have an area that can become a mud room. In this space you can find room for kid's jackets so that the coat closet can be more formal for dedicated adult use. A mud room can include hooks for hats, scarves, or other grab-and-go items.
Alternatively, an attached garage can provide mudroom type storage. The garage is a great way to grab extra space while containing the clutter discretely. The key is to install custom storage that will protect any expensive sports equipment, like storage shelves, drawers and baskets. Shelves can handle the boots, shoes, and cleats; while standing storage bins can hold bats and longer gear. Hooks can also be added to any storage area to catch the baseball hats, dog leashes or other frequently used items. Cabinet doors add a beautiful finishing touch.
Spring is almost here—and it's time to store the winter away while planning for warmer weather. A well designed storage solution can take your gear away from your door, and leave you more time to stop and smell the daffodils. Enjoy!