Both Bonnie and I feel that it is important to give something back to the community, especially where it concerns children and families in need.
I recently had the honor to be asked, through NARI, to help out with some renovation work at the Ronald McDonald House in New Hyde Park, NY. I say honor because my experience there has given me a new perspective on the impact that the charity has on people.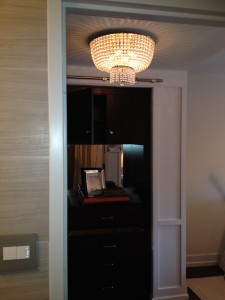 The funding for the Ronald McDonald House charity is donated, and much of the "staff" are volunteers. The families served are not charged for the time they stay at the house. They simply have a need to be close to an ailing child who is in the hospital; the house provides that and more. It becomes a sanctuary during a time of extreme stress. The house has a kitchen open to all, and provides "home cooked" meals for their guests. They provide wifi, and even video games.
This year's remodeling effort covered more than 20 rooms, and most of the materials were donated by everyone from lumber yards, flooring companies and supply houses, to designers, electricians, carpenters and their friends and families. My family helped with the installation of flooring in two rooms. We were all affected by the experience, and the satisfaction of knowing that our efforts went to such a worthy cause. Thinking of the experience now literally brings tears to my eyes. The aches and pains we felt over the few days after we worked there became a badge of honor.
About a week later,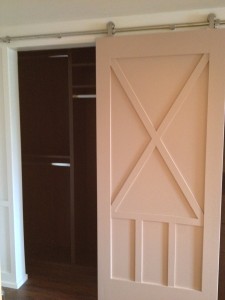 Symmetry was approached again. This time by Kelly Dall, and our friends at Artisan Design Build Remodel, to help finish a room by giving the guests a simple and attractive way to organize their belongings during their stay. The collaboration resulted in a closet and storage solution that is functional, attractive, and blends seamlessly with Kelly's design. I'm sure it will be appreciated by anyone who stays in the room. I was grateful for the opportunity to be able to give more than just my time, and to partner with both a gifted designer, and a remodeling firm that always provides impeccable work. I truly believe that the sum of the work far exceeded our expectations.
Bill Kahn – Vice President / General Manager