Not Just Storage: Closet Essentials
By Arlene Gross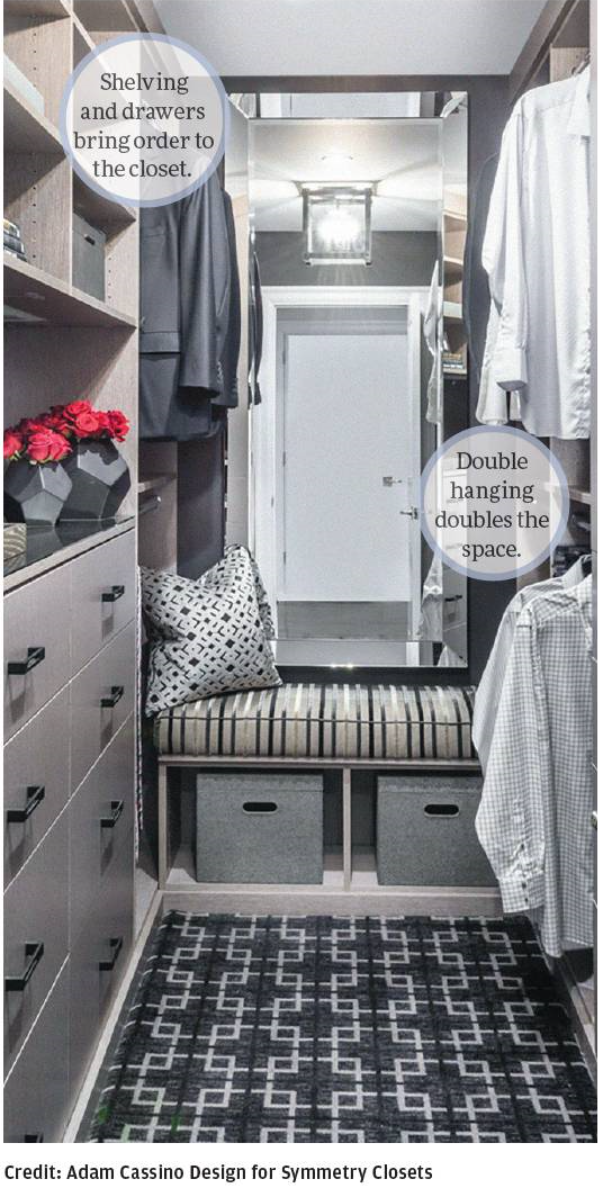 Today's closet is not simply a place to stash your clothes.  Rather, with the proper design, a closet virtually becomes a room within a room, a showcase to proudly display your wardrobe.
The first thing to address in designing a closet are the hanging clothes. because there's really nowhere else for these clothes to go, says Bonnie Reich, president of Symmetry Closets, a storage design company based in Holbrook.
"When you walk into a closet, it's not just about packing it in," says Reich. "It's also creating the right flow of space," she says, adding that accessibility is key.
Next, consider shoes, handbags, folded clothes, and sweaters, which can go into drawers of shelves. Lastly, look at where accessories such as jewelry and watches will go.
The two goals of good closet design, explains Reich, are finding space that's not used properly, to which you can add more hanging rods, hampers and shelves, and providing great organization and flow.
An often overlooked part of the closet are the corners, which, Reich says, should be used for hanging clothes.
Valet rods, which can be either waterfall style, with multiple cascading hooks, or a pull-out version that retracts when not in use, are a handy way to hang clothes you'll wear the next day.
Configuring the Space
First a designer needs to look at the space and assess the clients individual needs and preferences for how to store clothing.
"Some people just want great organization; other people want a really great sanctuary," says Reich. :And then there's all that space in between."
To begin renovation, measure the space, then work up CAD (computer-aided design) drawings, explains Marlaina Teich, owner of Marlaina Teich Designs in Merrick and New York City.
As a designer assess the client's needs, preliminary layouts will get tweaked to address any specific requirements.
To add extra space in the closet, you can knock down walls in a bedroom, but that adds significantly to the budget, warns Reich.
"Once you start moving walls, it's a much more complicated project," Reich says. "It could mean changing air conditioning, floors. It just opens up a lot of issues that can come up."
Lighting, Flooring, and More
wp-content/uploads/2019/10/3-1.pngHigh hats and chandeliers, often used for a closet lighting, create a room within-a-room effect, notes Teich.
Other lighting techniques include dropping down crown molding from the ceiling and adding LED lighting to create a glow on the ceiling, Teich says, adding that placing puck lights into built-ins and glass cabinetry will spotlight what's contained within them when you turn on the lights.
A custom center island with a glass top allows you to both see watched, jewelry or sunglasses displayed below in a velvet lined drawer and also utilize the glass surface.
Whether you have carpeting or wood floors in the room, you typically continue the flooring into the closet or you can choose something completely different, explains Teich.
"We can do a whole inlay design," Teich says. "We could do painted floors in a pattern."
Beveled mirrors add beauty, utility, and makes the space look larger, says Teich.
Another consideration are wardrobe doors, which, Teich says, look beautiful from the outside and can be utilitarian on the inside, with built-in shelves for shoes and boots.
"If you're lucky enough to have a room that you can open the door and walk into and it's your closet, you want to make it into an experience." Teich says.




As published in the Long Island Press October 2019 Edition, Volume 198, NO. 10