It's summertime.
Time to ride in your convertible, enjoy your motorcycle, get your boat out on the water. And…time to enjoy your garage!
But what if your garage doesn't bring you joy?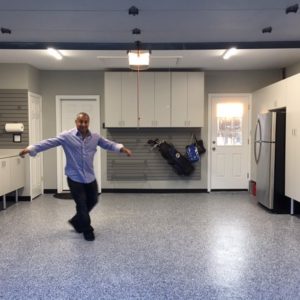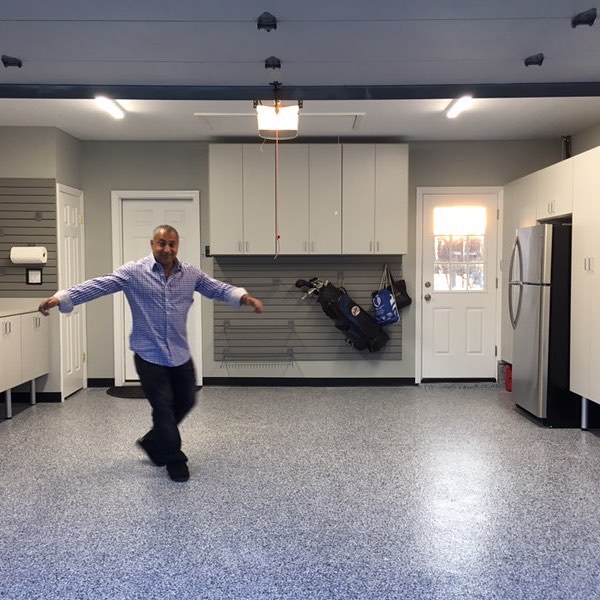 Call in the experts!
Our garage project with the happy dancing man is featured in NY Newsday about just this subject.
The homeowner had us in to install the cabinets the day before his big birthday party. He wanted to have the catering in the garage—and also have space for his brand new motorcycle. Since then, he often hangs out in the garage with his pals, drinking wine from the fridge (in the garage) and smoking cigars in the fresh breeze.
To read the rest of the article, click below:
https://www.newsday.com/classifieds/cars/long-island-garages-1.33593388
Tips and Tricks to Transform your Garage this summer:
(1) Transform the dull concrete floor with epoxy. You can choose colorful or sedate. The smooth finish means your garage stays clean—and you don't track dirt into your home.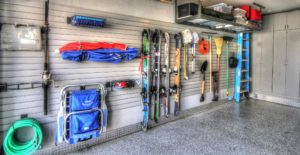 (2) Get your stuff up off the floor. Cabinets keep everything safe and out of the way. The cabinets are up on legs to prevent flood damage for waterfront properties. And having your stuff behind doors means it's always neat and tidy.
(3) Introduce "slat wall" to store your hoses and extension cords, hang the ladder and tools, and stash the sporting equipment literally on the walls!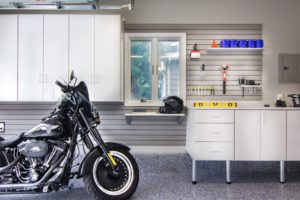 With a few of these tricks, you can transform your garage from the place you avoid looking at….to your favorite room in your home!